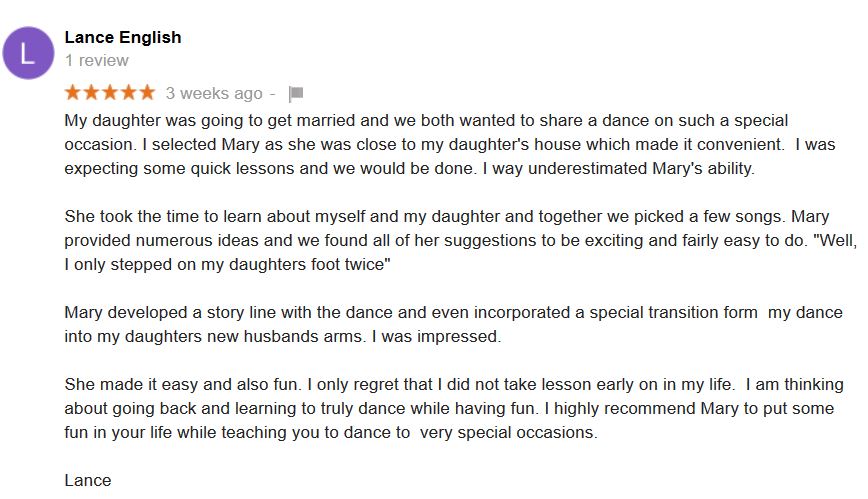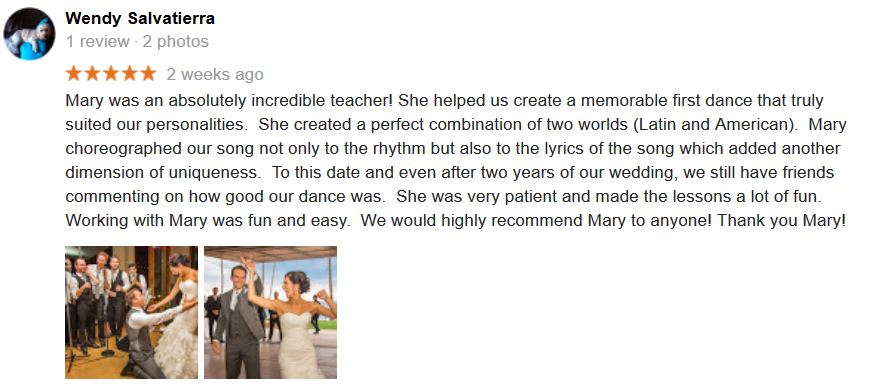 Mary was an absolutely incredible teacher! She helped us create a memorable first dance that truly suited our personalities.  She created a perfect combination of two worlds (Latin and American).  Mary choreographed our song not only to the rhythm but also to the lyrics of the song which added another dimension of uniqueness.  To this date and even after two years of our wedding, we still have friends commenting on how good our dance was.  She was very patient and made the lessons a lot of fun.  Working with Mary was fun and easy.  We would highly recommend Mary to anyone! Thank you Mary!
Wendy G  10/26/17

I have been taking lessons from Mary for a long time. Her lessons are always informative and fun.
Try her, you will love her.
Mere B 10/31/17

I have known Mary for several years.  She is an expert, experienced teacher with a dynamic, outgoing and friendly personality.  She also is sensitive to the needs of the dancer, and a good communicator.  She is patient, and willing to take extra time so the pattern, steps,  etc. is understood.  Her jovial personality and outgoing manner make it fun to be around her,  so the lessons are fun, and easier to learn.
PF 12/6/17


I've known Mary for over 15 years and have always enjoyed her dance lessons. She is not only a professional, but friendly and fun. Love her,
Elza 12/6/17


I wanted to say that since I have met Mary (dance instructor) she has been such an inspiration in my new zest for dancing.  Her classes are energetic, classy, full of style, and just down right FUN.  Mary brings laughter and a great sense of humor to her classes.  I have been going to her classes at the Moose Lodge for about seven months and have enjoyed her teaching style, so do a lot of other people, as Mary's classes are always full.

Mary enjoys what she does and loves to teach new and returning students all that she knows.  There is a passion in her for her love of dance or Mary definitely passes that on to her students.
I am so lucky to have been introduced to Mary and her passion for dancing.
Sheree W  11/21/17


Mary brings a lot of energy to dancing and her classes are always upbeat!  Her classes include moves for beginners and intermediates, and everyone comes away with something! The Kearney Mesa Moose Lodge is a perfect, comfortable place to learn a new move and dance to great music with the nicest people. I'll be back!
Kathy F 11/12/17
You can always count on there being a good turnout on Tuesday evenings at the Kearny Mesa Moose Lodge, for Mary's dance lesson followed by open dancing.
Whether she is teaching West Coast Swing, Jitterbug, Night Club Two Step, Waltz or Cowboy Two Step, Maryalways includes a new move beyond the basic steps.
Joyce 11/3/17



Mary is a very talented professional dancer and is exhibited in her teaching various dances.
Jose J. De Luna  11/7/17

Mary, 
As always when you are present, the party is always super! I enjoyed every minute of it: great music and great food, and the DJ was the best I have ever had the opportunity to dance to. Excellent selections of all types of dance music.
Very sincerely, 
Gene S.
"I have taken dance lessons from all the major San Diego studios for several years.  Not until I found Mary Manzella did I feel that it all came together, she gives so much more.  Learning from Mary is like going to dance school, not steps and moves, but the real essence of dance that applies to all styles.  And she communicates it with so much fun and enthusiasm that I'm always stimulated to learn more. Thank you, Mary!" –Rob Vessiny
"Mary is the most spectacular and best dance instructor that I've had, and I've have a multitude of instructors." –Enedina, Director, Educational Leadership
"The classes are such a great success because of a combination of 3 things: Mary's excellent promotional efforts; her friendly, bubbly, humorous personality; and her excellent teaching skills. That's why the classes are doing well."
–Harvey C. 
"Mary, we are learning more from you than from any other instructor"
–Ivan (current student)
"Mary, I can always tell which ones [on the dance floor] are your students because they look so good!" 
-Dancer at the San Diego Swing Dance Club  
"This was so much fun. I would come back [to the convention] next year just for this class!"
-Participant in San Diego Marriott Hotel and Marina, Spousal Program, October 2000, The Dancer Within
"Mary's lessons are my "therapy" sessions – it's an hour and a half where my problems are put aside, and I have a lot of fun with a great group of people."
-Bobbi
"Within three weeks of switching to Mary Manzella, I started receiving compliments from women I danced with. "You look nice!" "Wow, you've really improved!" "That was wonderful!" 
-DB
"I didn't think I could ever dance! Now, I'm not afraid to be the first on the dance floor!"
-John H
"Mary's dance classes have been so much fun! I have met friendly people and Mary's style of teaching is great!"
-Karen
"Dancing is more fun than ever! With the confidence I've gained from Mary Manzella's dance techniques, it's easy to play with and enjoy the music and my partner!"
-J. B. and M. T.
"Mary Manzella was our top teacher when we first started the club in '89, and she is still TOPS!
-Ginny
"…I have learned to connect with the music, the floor and my partners! I can hold my own and look good no matter what kind of dance or whom I am dancing with! "…I get many compliments from my dance partners and the people watching from the sidelines because of Mary Manzella's classes!"
-Trish
"NCSBDC is a friendly group with high-class instruction. The emphasis is on learning techniques you can remember and build on."
-Kerry Standifer
"I am very impressed with Mary's ability to create top notch dancers by instilling a rock solid foundation first and building with expert style and technique. Mary's male students have by far the best leads in San Diego!"
-M. G.
"Mary will make you look and feel great on the dance floor. It's not easy – but it's worth it!"
-Bonnie